2023 AUTOBACS SUPER GT Round3
SUZUKA GT 450km RACE
Dates: June 3-4, 2022
Location: Suzuka Circuit(Mie Prefecture)
Attendance: Qualifying: 1,1000 Finals: 22,000
Qualifying: 17th
Finals: 18th
Points Earned: 0
Series Rank: 21th (2 points)
 During the first weekend of June, where it was announced that the rainy season started a week earlier than usual, Round Three of the 2023 SUPER GT was held at Suzuka Circuit. Typhoon No. 2, which possessed incredible gale force, made landfall at the southern tip of the Japanese archipelago this week, which brought heavy rains to western Japan on the Friday when the teams first entered the circuit. Rainfall continued to increase rapidly from morning, which caused the Tokaido Bullet Train to suspend service and major expressways to close across the board. This caused the transportation network to fall into utter chaos. Although the drivers and coaches who had meetings scheduled on Friday arrived just before the chaos ensued, the transportation network chaos continued into the next day. The teams who were scheduled to enter the circuit on the morning of the qualifiers, arrived in the evening as the qualifiers came to a close.
 The BoP (Balance of Performance) towards the Merceders-AMG GT3 is particularly strict at Suzuka Circuit. The diameter of the intake restrictor, which affects engine power, remained the same as the opening round at 34.5 x 2 millimeters. The BoP weight has increased to +35 kilograms, and with a total vehicle weight of 1,320 kilograms, it is the heaviest of all vehicles, along with the Nissan GT-R.
 The success weight (SW), added according to achievements made, held little influence, as the two points gained in the opening round only added six kilograms. However, the track at Suzuka Circuit have a relatively narrow width, and is known to be one that is difficult to pull out or into. At the same time, it's said to be "a circuit that is tough on the tires." For those reasons, it is important to rank even a little higher during the qualifiers to get the earliest possible head start during the finals.
 As in the previous event, this race is contested over a distance of 450 kilometers, where "at least two refueling stops" are required from start to finish during the finals (refueling during a safety car period is permitted, but does not count toward the required number of refueling). How the pit workers operate, such as timing when to do the 2nd mandatory refueling or organizing who does what job within the pit, also plays a large role in how the race plays out.
june, 3rd (Sat) [Official Practice, Official qualifying]
Weather: Sunny
Course: Dry
Air/Track Surface Temperature:
Q1 Start: 25℃/40℃
Q2 Start: 25℃/38℃
 Rainfall stopped in the middle of the night at Suzuka Circuit in Mie Prefecture, and most wet patches on the course cleared up by the morning of the qualifiers in time for when the support race was held. However, due to the previous day's heavy rain, the rubber that coated the course was washed away, which turned it into a "green" surface with low grip capability.
 Due to a crash that occurred during the (support) race, official practice runs began at 9:15 A.M., which was five minutes later than planned. Driver Kataoka left the pit, with conditions at 23 degrees Celsius and a road surface temperature of 26 Celsius, at the same time as the course opened.
 Driver Kataoka in Car No. 4 Good Smile Hatsune Miku AMG produced a time of 1:58.674 on the fifth lap, and briefly returned to the pit once in second place. Kataoka returned to the track after replacing the car tires with a different set in order to evaluate the previous set brought for this round.
 Time improved to 1:58.082 for lap 11, and from this point, the pit team continued to work intermittently to refine Car No. 4′s set-up. After running 21 laps, Kataoka passed the torch to Taniguchi.
 From here, Taniguchi lapped in at the 2:01 range and returned to the pit for a moment after getting a feel for the car before the occupied run starting at 10:40 A.M. Even in this 10-minute frame, which would normally be a test-run, Taniguchi finished the session with a 1:59.560 time, his personal best, while focusing on tire evaluation and commanding a long-run-oriented set-up with eyes set on the finals.
 Car No. 4 was 8th in its class with its best time recorded towards the outset. However, Kataoka said, "Controls were not satisfactory." Kataoka was also in charge of the times for FCY test starting at 11:10 A.M. and the Circuit Safari session starting at 11:40 A.M., and continued to refine the teams set up in preparation for the qualifiers.
 Representative Aki and Supervisor Ukyo subbed in at the Safari Circuit for the Mikusapo team, who were unable to arrive at the circuit in time due to the ongoing bullet train service suspensions. Many of the safari bus participants were excited due to the appearance of these unexpected guests. They ran 10 laps during the FCY test and achieved a top ranking time, while placing 16th after running seven laps in the Safari Circuit.
 As usual, Q1 of the GT300 class are divided into groups A and B for the qualifiers in the afternoon. Car No. 4 Good Smile Hatsune Miku AMG was placed in group A for this round, with Driver Kataoka taking charge after being responsible for vehicle refinements.
 At 3:05 P.M., when the session was scheduled to start, temperatures stabilized at 25 degrees Celsius, while road surface temperatures rose to 40 degrees Celsius. However, a 20-minute delay occurred due to an accident in which oil spilled over a wide area of the circuit during the last run of the support race, where clean up took some time.
 At 3:25 P.M., Driver Kataoka made his way to the course for a leisurely warm-up lap, where he focused on getting used to the high road surface temperature and use of the tire grip. On lap four, the first attack placed him at eighth with a time of 1:58.692. Because this placement was on the cusp to advance to Q2, he successively went on the offense. In the next lap, he was 0.007 seconds ahead of Car No. 9 (PACIFIC Buisseppo NAC AMG), but at this point, he was already placed 9th. This was the first season he wasn't able to advance into Q2, as he was 0.405 seconds behind Car No. 65 (LEON PYRAMID AMG) in 8th place. He started at 17th place in the lower class for the finals the next day.
June, 4th (Sun) [Final]
Weather: Cloudy
Course: Dry
Air/Track Surface Temperature:
Prior to Start (1:20 PM): 28℃, 41℃
Early Race (2:30 PM): 26℃/37℃
Mid-race (3:30 PM) 26℃/34℃
End of Race (3:58 PM) 25℃/33℃
 The fans who were unable to travel the previous day arrived at the circuit, where the morning pit walk was held under sunny skies and everything was back to its original lively atmosphere. Kataoka celebrated his birthday at the previous round held at Fuji. This time, Taniguchi, who had his on the 18th of last month, and Ukyo, who finally turned 60, were celebrated by many fans.
 As noon went by, Kataoka, who was participating as the starter in the finals, made his way to the warm-up run. He finished this session in 21st place after nine laps, at a pace in the 2:01 to 3:00 range, which was not a desirable pace for a long lap.
 While the temperature was reported at 28 degrees Celsius at 1:30 P.M., road surface temperature sat at 46 degrees, the highest this weekend. The team decided on a "somewhat usable set-up" under these conditions, and went on to the start of the finals.
 The final race started off after a parade lap led by the Mie Prefectural Police Traffic Riot Police, followed by a formation lap led by a safety car.
 Several cars from the rear grid, such as Car No. 2 (muta Racing GR86 GT), which placed 4th in the qualifiers, and car 7 (Studie BMW M4), which started at 16th on the grid, immediately made their way to refuel after the start. Teams attempting to finish their required refueling were quick to move, and relatively speaking, Car No. 4 was improving its position lap by lap.
 Car No. 18 entered the pit to complete its required refueling on the 6th lap, but due to an error during tire replacement, it came to a halt at the hairpin turn after its right rear wheel fell off. In order to recover the vehicle, the race was switched to a safety car immediately after declaring a FCY (Full Course Yellow) state.
 The team called Kataoka back during the SC with an Open Pit Lane. As mentioned before, "refueling during SC is allowed, but will not count towards the required number of times it must be done," but even then, they carried out full servicing by refueling and changing tires out. This makes it possible to reduce the next pit stop maintenance time, given the slow pace formation led by the SC on the course. Two laps after the restart, on the 14th lap, they carried out a "splash and dash" to fulfill required refueling. With this, the car could return to the course with the smallest possible loss.
 This caused car 4 to go down to 22nd place before slowly raising its position back up, while the surrounding competitors were just heading for their first refueling. However, pacing showed no improvement, with lap times ranging from 2:02 to 2:05. This allowed two cars using Dunlop tires to get ahead of them on the course: Car No. 20 (Shade Racing GR86 GT) on the 26th lap and Car No. 10 (PONOS GAINER GT-R) on the 28th lap.
 On lap 30, Car No. 88 (JLOC Lamborghini GT3), which was right in front of Car No. 4, suffered a high-speed spin at 130R, but Car No. 4 managed to avoid it with only a light grazing. Pacing did not change after this, and the team continued to suffer as Car No. 56 (Realize Nissan Mechanic Challenge GT-R) and Car No. 31 (apr LC500h GT) got ahead.
 On the 40th lap, as the second mandatory refueling and driver change approached, the team started to take action. Driver Kataoka was called back and switched with driver Taniguchi, who was sent back onto the track after a full-service pit stop.
 Car No. 4 returned to the race in 25th place and showed a bit of recovery after the tough pacing during the first half of the race, while also setting its personal best lap time of 2:01.099 on the 45th lap. Driver Taniguchi overtook Car No. 5 (Mach Shakken Air Buster MC86 Mach) on the track, and while pit stops occurred around them, he was able to climb up to the top 20. However, a major accident occurred on the 54th lap.
 During a fierce fight at corner 130R, Car No. 87 (Bamboo Airways Lamborghini GT3) and Car No. 30 (apr GR86 GT) were side-by-side. Car No. 23 (MOTUL AUTECH Z) pushed further inside and made direct contact with Car No. 30 amidst this battle. Car No. 23 spun at high speed near the Suzuka Circuit's world famous, ultra high speed corner and also collided with Car No. 87, which was on the outer portion of the track. Car No. 23 completely lost control and crashed into the tire barrier just before the chicane. It fell apart and broke into pieces, but did not lost momentum and soared further before crashing into the catch fence above it. After being collided, Car No. 87 struck the tire barrier, spun, and slid on the track before coming to a stop at the chicane. It was obvious to all watching that this was a major incident with potential fatalities, so the safety car was immediately sent out, followed by a red flag, halting the race.
 Amidst all spectators nervously watching this scene, Car No. 87′s driver was able to free himself from his vehicle without help, and Car No. 23′s driver was confirmed safe as a result of rescue operations, causing a sigh of relief among the crowds. However, the safety mechanisms, such as fences and barriers, were judged to be immediately irreparable, so the race was brought to an end, and the rankings at that point became the end results of the race. As a result Car No.4 Good Smile Hatsune Miku AMG finished the race in 18th place. Car No. 7 Studie BMW M4 took first place thanks to the team's successful pit strategy they enacted early on.
■Comments from the Team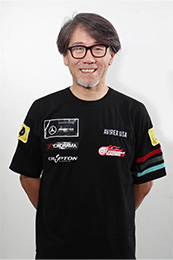 Team Owner: Aki Takanori
I only know what I heard from others at this point, but the most important thing is that Driver Matsuda (of Car No. 23 that caused the accident) is safe. As for our weekend, the tires did not work well for us. In terms of our main issue, all I can say is, "that's all it was." It was quite a tough situation where, from Saturday morning, we kept going in and out of the pit and continued this until the end of the weekend. During our pre-test (held after Round 2 at Fuji), I felt somewhat hopeful, but it seems that was just a illusion. Last year, we won for the first time and believed we broke a long-standing curse at this circuit, but our main issues remained unchanged. We will return to Fuji next, which is honestly the "only" course on the calendar where we stand a chance. Based on what we learned before, we will do our best once again.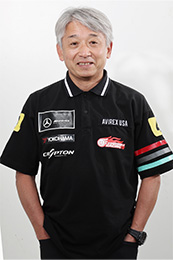 Team Manager, Ukyo Katayama
First off, I heard that Driver Matsuda was confirmed safe, and that's a relief.
As for the race, we were quite obsessed with figured out how to cut our time down by 0.3 seconds by considering further performance adjustments with the tools we use. The results were pretty obvious. These problems are not easy to fix, so we need to deepen our team's understanding and discuss how to solve these issues together. It feels a weekend where I'm keenly aware that we are back to the same situation from a few years back, where we once again have to think hard about this from point zero. Considering the surrounding grid set-up and our original goals in this race, we started by using harder tires, but this did not improve our pace. We have to overcome another large hurdle, is what I am currently thinking.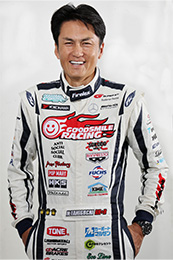 Driver, Nobuteru Taniguchi
That was truly a huge crash, but the most important thing is that Driver Tsugio Matsuda is safe. I also saw the footage sent by my friends, and it was fortunate that there was a fence in place there.
As for Suzuka, I didn't have the best feeling even during our previous tests, and that issues seemed to continue. We had to some half-hearted decisions among the things we had prepared, such as "this, this and that will do," because nothing available was any good. But that does not solve anything. If there was a filming crew from the official YouTube channel (Rd2 / FORMATION LAP: Episode 2 'Bold Calmness') this time as well, I would have asked them not to upload this because it was that bad. We really have to consider "fast or slow, are we really winning or losing," and the fact that this is not a skill we can just easily master. We have to make up for our own weaknesses.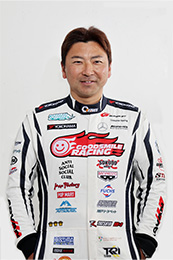 Driver, Tatsuya Kataoka
Over anything else today, I'm just glad that Driver Matsuda is safe. That's all that matters. After witnessing that scene, I completely forgot about all of my previous memories up to that point, and I could not remember what I was even doing until then…
Anyway, the tires we picked out this time were not a good match at all. We originally thought it might be difficult to use in the qualifiers, but it was "far more" difficult than we could have imagined. Well, we thought that if we could have at least drawn out some value in this choice during the final race…. but in the end, we just couldn't use these tires well. We didn't pick up the pace during the race, and it felt like we were driving dispassionately. We did things like reducing our potential losses during the safety car state, but we couldn't reach the level we needed to compete. In the next race at Fuji, I hope this issue can be resolved. I want to have a race where I can overtake cars ahead by utilizing our single weapon at hand, which seems to be straight-line speed.