SUPER GT Round 5  Fuji Speedway
・Result
- August 9, 2014  Qualifying:7th
- August 9, 2014  Finals:4th
Goodsmile Hatsune Miku Z4 passed the checkered flag in 4th place in Round 5!
■A typhoon was expected for the day of qualifying, but it ended up being a dry run.
GOODSMILE RACING & TeamUKYO went through Round 3 and Round 4 without any points. There is no way points can be dropped in Round 5. With that said, a major typhoon was approaching, putting the race itself at risk of being cancelled.
Even though there was heavy rain for a short time during the pit walk on the day of qualifying, the weather recovered so well that the road surface was dry by the time qualifying began. Kataoka took charge of the 1st qualifying round. Even though he was troubled by the settings since the practice run in the morning, he recorded a time of "1'39.326" and went through in 10th place.
Taniguchi took over for the 2nd qualifying round that followed. He punched out a time of "1'39.293" right away and jumped out on top provisionally. As it started to rain during this round, we thought that we could get away on top, but the rain did not fall that hard, and those at the top gradually improved their time, resulting in a 7th place finish. We would begin the finals at the 7th spot of the grid.
■The finals begin amidst a rainstorm!
The 10th was the day of the finals. Members and fans were also troubled by the awful weather conditions, in which strong rain came and went from the morning. The practice run in the morning was ended with a red flag after a few laps, as the rain was falling too hard. Even though a few automobiles participated, the Circuit Safari also ended with a red flag, which is a rare occurrence.
During the pit walk around lunch time, when the weather improved, in addition to the normal driver autograph session, Kamui Kobayashi, who is a current F1 driver and special supporter of GOODSMILE RACING & TeamUKYO, made a surprise appearance, making this a very memorable autograph session with Ukyo Katayama, Nobuteru Taniguchi, Tatsuya Kataoka, and Kamui Kobayashi. Kobayashi then provided yakisoba to race members in the GOODSMILE RACING & TeamUKYO suite.
Even though the warm-up run right before the race was stopped after 10 minutes with a red flag because of increased rainfall, the race began at the scheduled time. However, this would be a safety car start, in which safety cars ran ahead.
■We ran while keeping our standing in the midst of mass mayhem.
Kataoka took charge for the start. We started in 7th place, but intense battles were repeated during the early phase, as we wavered between 6th and 7th place while passing others and being passed by others.
During the 9th lap, the rain became strong, so safety cars were brought in. The safety car run continued until the 15th lap, when the automobiles were lined up during the home stretch and told to stop. Entering the pit was prohibited during this time, but mechanics were allowed to intervene to help drivers leave the car, take off seatbelts, set up radios, provide drinks and cool suits, and set up sun blocks. This was a rare sight during the race, as automobiles were covered to prevent water entering the engines and drivers left the automobiles to take a rest.
The race restarted at 16:15 with a safety car run. The safety cars entered the pit after about 2 laps, and the race really started again from the 18th lap. Even though we passed 2 automobiles in a row during this lap and went up to 5th place, we were passed up immediately and fell to 6th place. We then entered the pit during the 32nd lap while keeping our standing. After the tires were changed to ones with shallow grooves (intermediate), Taniguchi gripped the wheel!
■We secured 4th place without any damage despite a 80kg handicap and poor weather conditions!
Even though we fell to 14th place in the out lap, Taniguchi gradually improved our standing. The rain stopped, and the record lines on the course began to dry. Although some teams took a gamble by changing to slick tires here, GSR continued to run as is. Amazingly, we climbed up to 4th place during the 43rd lap.
However, the race entered a deadlock here. #61 BRZ, which ran alone in 1st place, was exceptional, while #11 GAINER DIXCEL SLS in 2nd place, #86 Crystal Croco Lamborghini GT3 in 3rd place, and GOODSMILE Hatsune Miku Z4 all ran at similar paces and could not close the distance at all. Rather, it became a matter of whether they can hold off the chasing pack in 5th place and below.
The weather worsened toward the end of the race. With 10 laps left in the race, the rain became very heavy again, causing a safety car run. At this time, automobiles with slick tires could not catch up to the line and had a hard time lining up. Also, the rain did not get any better, so the checkered flags came out during a safety car run in the end.
Based on this result, Miku Z4 finished in 4th place and obtained 8 points. Since #11 finished in 2nd place, we were passed by them in the points ranking. #11 is on 52 points, Miku Z4 is on 48 points, and #61, which won this race, climbed to 3rd place on 35 points. Being 4 points behind with 3 races remaining, we still have plenty of opportunity to become champions. We would like to strengthen our claim to the throne by acquiring a lot of points during the next Suzuka 1000km race.
■Member Comments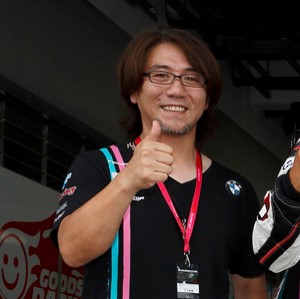 Team Owner:Takanori Aki
First of all, I am happy that the race happened without any issues. The people watching also had a hard time. Even though there were a lot of red flags and safety cars, the race itself was quite heated. Kataoka was especially good after the safety car run. Since there were many dry tests up to now, I think the difference this time was that we had not figured out the wet settings as well as our rivals above us did. I don't think the timing for the pit stop was bad, but we may have been able to go ahead of #86 if it happened 1 or 2 laps earlier. At any rate, #61 and #11 were exceptionally fast this time, so we would like to get ahead at the upcoming Suzuka race, by any means. It would especially be tough if we allow #61 to get 2 consecutive wins.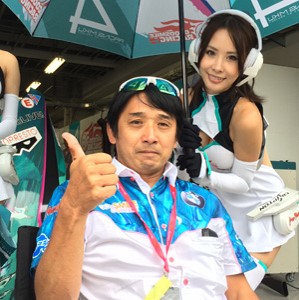 Team Manager:Ukyo Katayama
There was some concern about whether or not the fact that the driver struggled with the set-up on the day of qualifying would affect the base set-up. However, I think that Taniguchi and Kataoka are amazing for being able to run through the finals in 4th place during such heavy rain. People who don't know too much may think that they could have done better, since they are both easygoing, but the fact that they were able to post a time similar to the top racers and finish in 4th place without any accidents in the rainstorm despite having a weight handicap of 80kg is remarkable. We had obtained no points in the last 2 races, and things were turning sour in SUGO, as everything backfired, so I hope that this changes our outlook heading into Suzuka.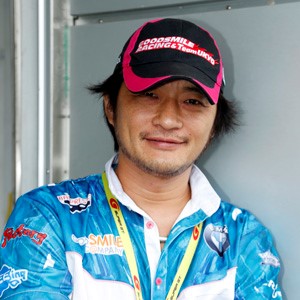 General manager:Itsuo Ohashi
Even though we finished the race in 4th place, I think this was the best result for this race, as we did everything we could to finish in 4th place. If you insist, I could agree that we could have entered the pit slightly earlier, but the lap time of #86 was slightly faster than ours, so it may have passed us even if we were ahead, and the tires of #11 were matching better.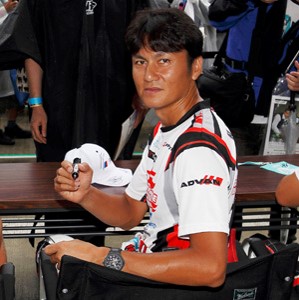 Driver:Nobuteru Taniguchi
A typhoon was said to arrive, but the race ended up happening after all. Kataoka did great in the finals and brought us into the pit in 6th place. After that, the team decided to change to intermediate tires, which was a good choice. As a result, we steadily improved our standing and were able to finish in 4th place, which I don't think is bad. We may have been able to finish in 3rd place had we taken some risks, but that is a difficult decision to make, so there is nothing for it. I feel like we were able to go through this race at 90%. It is unfortunate that #11 went ahead of us, but they were better this time. I am glad that we were able to finish in 4th place, because we are still in striking distance.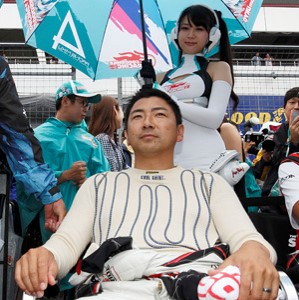 Driver:Tatsuya Kataoka
To be honest, I was relying on luck for a lot of parts of the race before the first red flag, so I am glad that I stayed on the course. It was tough, because the conditions were not good at all, with wet patches with little water or inter patches with some dryness, so I think it is a good result that we were able to finish in 4th place by doing what we could. Regarding #11, I think there was also an issue with the tires, but that means that the opposite could also happen, so I am not pessimistic about the championship at all.