2016 AUTOBACS SUPER GT Round3
2016 AUTOBACS SUPER GT Round8 MOTEGI GT GRAND FINAL
- November 12, 2016  Qualifying:19th  Finals:18th
- November 13, 2016  Qualifying:5th Finals:3rd
A disappointing 3rd race followed by a podium finish in 3rd place in the 8th race
■ Super GT's first ever rescheduled final race
It was the long-awaited final race of 2016. It was held at Twin Ring Motegi in Tochigi Prefecture. Because of the 2016 Kumamoto earthquakes, this year's 3rd Autopolis race was rescheduled to November 12, followed by the 8th race on November 13. This was the first time Super GT had ever held two races on consecutive days.
Although we usually set up on the Friday so we can run the qualifiers, the finals and the support races on the one day, this time we set up on the Thursday so we could run practice races on the Friday.
Although the forecast for the weekend was clear weather, come Friday the heavens opened unleashing heavy rains. Throughout the morning the racers raced carefully while we watched the weather, but red flags started and racing was cancelled after the third red flag. Due to the poor conditions, no team managed to perform well, so it was announced that the afternoon race would be extended by 40 minutes. The rain let up in the afternoon and all the cars picked up the pace. Racer Kataoka recorded a time of 1'50.121, sitting him in first place. Although it was only a practice race, it was fantastic to see him end with first place.
■ Saturday November 12 – 3rd race ends with no points
The 3rd race was held on Saturday November 12. Driver Kataoka raced in the qualifiers. There was no practice race, so it was straight into the deep end. The qualifiers started at 8:35am, but the ground hadn't dried yet so it was called a wet race. However, the team was sure it would dry up soon and chose slick tires. The racers dashed into the course with slick tires, but the cool temperatures and wet surfaces forced them into a pit stop. They swapped to rain tires and were ready to go on the offensive, but the rain tires weren't a good choice for the road surface that day. They recored a time of 1'58.885, the worst that season, leaving them in 19th place.
They started the finals race in the afternoon from 19th place. It was nearly impossible to claim a spot on the podium by this point, but as long as there was any possibility of becoming champion, they never gave up. The first driver was Kataoka. He overtook a car on the first lap, but there was a major crash in the third lap involving car 5 (ARTA BMW M6 GT3). Safety cars were seen right at the outset ― a horrible beginning. The safety car was removed by lap 7, when Kataoka was in 17th place. He reached 15th in lap 16 and went in for an early pit stop in lap 17. He swapped out all four tires and Driver Taniguchi swapped in.
He fell to 22nd place during the out lap, but returned to 18th by lap 28. The tires, however, still weren't quite right, which slowed his pace. The race was already half over, so it was difficult to try to score points. The team made the decision to swap the tires. There was a second pit stop in lap 29. He fell to 24th during the second out lap, but the tires were a better fit and he made multiple best times, as well as his fastest time. Afterwards he made it to 18th, but few laps remained and he met the checkered flag at 18th place.
As the 3rd race ended with no points, they unfortunately lost the right to go for champion. But they wanted to end 2016 on a happy note, so they poured all their efforts into the final race.
■ Sunday November 13 – Perfect tires, 3rd place in the final!
The 8th race was held on Sunday November 13. It signaled the end of a tumultuous racing week and the end of the 2016 season. Another day with no practice race, upping the pressure for the morning qualifiers. Unlike the previous day, the track was dry by morning so Driver Taniguchi chose slick tires for his attack. He jumped to 1st place in lap 2 with a time of 1'47.729 and lap 3 with a time of 1'46.961. The tires were retaining heat so he stopped in the pits in lap 5. It looked like he was going to make pole position, but his rivals constantly made times around 1'46. He managed to stand his ground and take 5th place and receive 5th grid in the final. It was Q3, so it wasn't a bad result at all.
Kataoka was again the starting driver for the final race. Immediately after the race started, he went in to successfully overtake car 9 (GULF NAC PORSCHE 911) at the first corner. After he made it to 4th place, the cars in 1st to 4th were all running at the same pace so he went a long while without being able to move up the ladder. However, car 88 which was in 3rd on lap 8 (Manepa Lamborghini GT3) slowed down and swapped places. On lap 16, car 65 (LEON CVSTOS AMG-GT), the car in 2nd place, made a routine pit stop. On lap 17, car 31 in 1st place (TOYOTA PRIUS apr GT) also made a pit stop, bringing Miku AMG to 1st place.
In the middle of the race in lap 24, Miku AMG also made a pit stop. Taniguchi swapped in as driver and swapped all four tires. The majority of JAF-GT teams decided not to swap tires, so the Miku AMG team which took a long time to do work on it started its out lap by falling to 9th place. Because the tires hadn't warmed up yet during the out lap, car 3 (B-MAX NDDP GT-R) overtook him. It was easy for him to catch up as his speed was 0.5 to 1 second faster, but overtaking was still difficult. This battle continued until toward the end of the race. Because the other teams had slowdowns and pit stops, he had returned to 5th place by lap 38.
There was a small collision when car 3 tried to overtake Miku AMG when car 26 (TAISAN SARD FJ AUDI R8) slowed its pace in lap 39. They were worried about tire troubles but nothing came of it, and they slowly caught up to car 3 who was in the lead. He made it through the lap around 1 second faster than car 3 and succeeded in overtaking in lap 45! He had almost made it onto the podium with 3rd. At this time, there were only 5 laps left and only 10 seconds difference between 1st and 2nd places, so he didn't manage to make and further progress. He was racing faster than the two cars in 1st and 2nd, so had there not been that battle with car 3, he may have had more success, which was disappointing. It was great that he managed to place nonetheless.
The 2016 season was a bit stagnant, following the previous season where they took 2nd. They didn't manage to make their dream of taking first place tome true, but it was a glimmer of hope for the team and their fans to see them make 3rd place at the last moment. And so ended the exciting 2016 race year.
■Comments from the team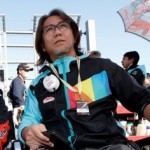 Team Owner:Takanori Aki
It was a shame we didn't manage to win this time. We made a good call with the tires and Kataoka raced well. We had some collisions, but Taniguchi's bold racing in the latter half was really inspiring. It reminded me of just how great a team we have here. Our last race really upped my expectations for the future.
This year's season has been really tough. We weren't used to working with these cars, so we weren't even sure where to start. But by the end of the season we'd made good progress, and that's how we managed to get this great result. We had a bit of discord in the team for a while there, but good results always improve the mood on a team. This year's Super GT was a learning year for us.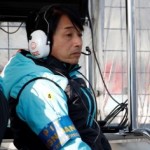 Team Manager:Ukyo Katayama
It was great that we made it onto the podium, but it's hard to stop thinking about what could have been if we had have gotten a better time by even a few seconds in the qualifiers. We could have been in pole position, or in 2nd. Kataoka raced at a good pace during the finals, and although we lost time with our pit stop, we didn't drop too much in the rankings. But it sure was a shame that the cool tires led to us getting beaten by car 3. That held us back for a bit. Once we got past it with a bit of a collision we saw the checkered flag, but that's just how races go sometimes. We placed 3rd because some of our rivals dropped out so it isn't an all-out celebration for us, but we were so happy to show some good performance to our sponsors and fans.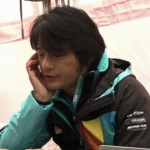 Communication Director:Itsuo Ohashi
I was looking at the time differences during the race and the time it took to do the pit stops, and Kataoka only took around 50 seconds while the other cars were taking 51 seconds per lap before their pit stops. That's why I was expecting us to be able to be more competitive, but car 3 was doing well so we lost half a second per lap. We kept at it for around 20 laps, so we had a big gap between us and the top racers. But still, we got 3rd. It's always a good feeling to be standing on that podium.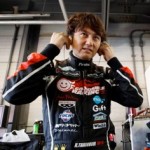 Driver:Nobuteru Taniguchi
We took 5th place in the qualifiers, so we started from a competitive position. Kataoka drove consistently well and left us in a good position when he handed over the baton, so we managed to not lose too much time with our pit stops. Our tires were great today and our load was light. The car was much easier to work with today. We overtook cars 26 and 3 at the V corner, which is the only part of the Motegi track that really allows for overtaking. Our only option was to build up speed at the S curve and pull off an overtake at the V corner. We would be left behind if we tried that at any other curve.
Some of it was due to the issues our fellow racers encountered, but being able to make it to 3rd was a nice end to a difficult year for us. If we ended horribly today, I'm not sure what would have happened to our team, haha! It was nice to finally race a normal race again.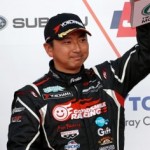 Driver:Tatsuya Kataoka
Taniguchi put in a great time for us in the qualifiers, so I felt we could put in a good fight in the finals today. During the finals there were times when the tires were struggling but the feeling returned when we gave them a clean. After that we managed to make even better times than our competitors and we managed to make up for the pit stop time lost by racing well on the course. I think I did my best to hand over the baton well. The times after I handed over to Taniguchi weren't bad and the car was in good shape, so we managed to make a good time before we met up with car 3. If we hadn't had that happen, perhaps we could have done even better. It took a while, but I feel we've really gotten back to our usual speed.