2018 AUTOBACS SUPER GT Round 3 SUZUKA GT 300 km Fan Festival
- May 19, 2018  Qualifying: 3rd
- May 20, 2018  Finals: 8th
Grabbing 8th place in Round 3 SUZUKA even without replacing tires
■May 19 (Sat) Strong winds cause things to go wild in the qualifying round
Previously a summer tradition, the Suzuka 1000 km has ended, being reduced to a distance of 300 km starting this year and being included as a part of Round 3, held in May. Both the temperature and weight handicap changed completely, so times and strategies were also expected to change.
Thanks to an incorrect forecast of rain, the day of the qualifying round started out with blue skies. However, in addition to the low ambient temperature of 19 °C and road temperature of 26 °C, strong winds were also raging. The winds were strong enough to affect the driving, causing drivers to lose grip on their steering wheels and changing downforces, resulting in multiple cars to go off course even during the practice run. This brought on concerns for the qualifying round.
The team ended the practice run in 4th place, and then came the first qualifying race. The driver was Taniguchi. He temporarily made it into the lead with a record best time of 1'57.720 on the third lap, but several other machines came in at under 56 seconds, and there was a red flag suspension mid-race, resulting in a final position of 6th place.
Kataoka was the driver for the second qualifying race. Just like Taniguchi, Kataoka was the temporary lead, with a course record time of 1'56.388 on the third lap. It seemed as though the pole position was guaranteed at that point, but car No. 25 (HOPPY 86 MC) finished in second at 1'56.140, and car No. 96 (K-tunes RC F GT3) achieved the pole position with 1'55.531. As a result, car No. 0 (GOOD SMILE Hatsune Miku AMG) finished in third place and gained the third grid in the finals.
All cars from 1st to 10th place beat the course record of 1'57.543.
■May 20 (Sun) Making the race exciting through strategy and driving
Unlike the qualifying round, which was plagued by strong winds, there was barely a breeze on the sunny day of the finals. Unfortunately, due to an issue with the circuit measurement system, the race was delayed by 40 minutes.
The starting driver was Kataoka. They were starting from the third grid, with only cars No. 25 and No. 96 ahead. Going into the first lap with a surprise attack, car No. 0 succeeded in overtaking car No. 25. Next up was chasing after lead car No. 96, but it was going fast, and the gap between them grew steadily. On the other hand, their distance from the cars behind them also grew bigger and bigger until they were driving in second place practically unopposed. However, a GT500 went off course in the twelfth lap, and a safety car came on. The distance from the car in front was reduced, but the cars were also coming in much closer from behind, so car No. 0 had to use a high-risk, high-return strategy.
The safety car left the course in the sixteenth lap, and the race started up again. Car No. 61 (SUBARU BRZ R&D SPORT), which had been increasing in position throughout, immediately locked on to car No. 0 and pursued them relentlessly, but car No. 61 went in for a pit stop in the twenty-third lap. And in the twenty-fourth lap, car No. 96 also took a pit stop, leaving car No. 0 in the lead for a while.
Around the middle of the race in the thirty-first lap, car No. 0 took a pit stop as well. In order to stay ahead without losing their position, the team challenged themselves to not replacing the tires. To skip over tire replacement with a GT3 machine is incredibly risky, but they put their faith in the tire management of the two drivers and sent the car back onto the course. A pit stop normally takes 50 to 60 seconds with the replacement of all four tires and refueling, but it only took them 26 seconds this time.
But after the out lap, car No. 0 was quickly pursued by cars No. 18 (UPGARAGE 86 MC) and No. 96. Taking advantage of the qualities of Suzuka that make it difficult to overcome other cars, resident expert Taniguchi showed off his veteran-level techniques. Although the other two vehicles ran a superb line and were clearly outpacing them, car No. 0 managed to stay ahead. However, car No. 96 was running at an overwhelming pace, and required only a moment's opening to get ahead of car No. 0 and secure the lead. And while trying to keep car No. 18 in tow, other vehicles started coming up from behind, resulting in a queue that continued to the 8th place car.
Car No. 61, which had fought its way ahead through the rear-end battle, got in front at the chicane in forty-fourth lap, and car No. 25 got ahead at the straight end, putting car No. 0 in 4th place. The tires were practically done for at this point, and they were hoping to stick it out until the finish line, but with only two laps left they were taken over by all the vehicles that had been queued up behind them at once, and car No. 0 ended up approaching the checkered flag in 8th place.
This season was so tough that it required desperate strategies to get ahead. The team dropped to 10th in the season rankings with 12 points, but even this was just a 14-point difference from the top scorer. And it was fortunately a close contest, meaning that there was not such a big difference when considering the season overall.
The next race was over a month away in Buriram, Thailand, where the team took 2nd place last year. Hopefully, they will come away from the fourth race, a turning point for the season, with a lot of points.
■Comments from the team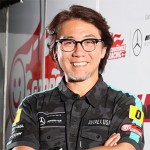 Team Owner: Takanori Aki
I think it was a pretty exciting race for the whole circuit. There were some other strategies we could have tried, but losing the gap with the lead due to the safety car in the first half put us in the position of having to go without tire replacement. In the end, we gambled and lost, but I think we gave the crowd a good show. We might have finished at around 5th place if we had replaced the tires, but we really wanted to make a run for the win.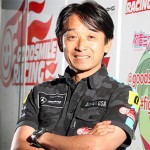 Team Manager: Ukyo Katayama
It can't be helped that things turned out this way. But it might have been a bit different if the safety car hadn't come in mid-race. We lost the margin that we had built up to that point, so we had to challenge ourselves by taking a risk. It was lucky that the safety car didn't come in at the second crash, though. I had expected that we wouldn't be able to get ahead in the second half, but I hoped we'd be able to keep the other cars behind. But to be honest, it was strange that we were still running at all.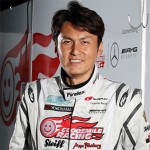 Driver: Nobuteru Taniguchi
The team really challenged ourselves, and it was good that we won points with our 8th place finish, but I wish we'd come in a little bit higher. I do wonder what could've been if we'd changed the tires, but that would have definitely landed us in 4th or 5th. We were hoping for a 1st place finish if possible, so we had no other choice. Unfortunately, I wasn't able to keep the other cars from overtaking me. I intend to take this regret and come at our remaining races with multiplied effort!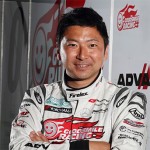 Driver: Tatsuya Kataoka
The tires didn't hold out until the end. You could say we tried for the win and ended up with a massive loss. But driving normally wouldn't have got us our win, and it was tough without increasing our speed. We were using the full performance of all of our skills, so I felt like we might have to raise our potential. Otherwise, we'll have to repeat this race and the last race by relying on a surprise attacks again in the future.