2018 AUTOBACS SUPER GT Round6 SUGO GT 300km RACE
- September 15, 2018 Qualifying:8th
- September 16, 2018 Finals:3rd
Shaking off rivals and debuting the podium at 3rd place at SUGO.
■Sept 15, (Sat) – Machine was in good condition but placed 8th in the qualifying race.
The SUPER GT Race Round 6 was held on September 15, and 16, at Miyagi Prefecture's Sports-land SUGO. Last year's SUPER GT was held at SUGO for Round 4, but it is the first time SUGO had been selected for September's Round 6 since 2015. Since the air and road temperatures are different in autumn compared to summer, strategies for tire selection will differ.
The qualifying day held on the 15th, had non-optimal weather conditions, and was cloudy in the morning with some fog. The road condition for practice session was 'wet' but had begun drying during the support race (FIA-F4) before the qualifying session, and the lines had become completely dry right before the qualifying session. The course still had wet spots and round 1 for the qualifying session had been declared 'wet' (allowing the use of rain tires).
Furthermore, the qualifying session had implemented grouping for the first time this season. Groups had been formed based on the rankings up to Round 5. Odd numbered ranks were placed in Group A, and even numbered ranks were placed in Group B.
Each group were given a 10-minute session to compete with lap times, and the top 7 from each group was to proceed to the 2nd round for the qualifying session.
Car number 0 (Good Smile, Hatsune Miku, AMG) was in Group A. Air temperature right before Round 1 for qualifying was 23 degrees, and the road temperature was 25 degrees, rain has stopped but is a condition difficult for tires to warm up. Taniguchi was selected as the time attack driver for Round 1 qualifying and had marked "1' 21.451" for the second lap and had shortened his lap time as he raced around the course to the 20s and 19s, hitting "1' 19.433" on his 6th lap to place 5th in qualifying.
Kataoka had been selected for Round 2 qualifying. Road conditions were completely dry after Round 1 qualifying and gradually upped his pace after entering the course. On his 3rd lap, he reached the 18s, marking "1' 18.994", and had marked "1' 18.928" on his 5th. But 1st place had marked a lap time in the 17s followed closely by multiple 18s, that they ended up placing 8th. They are to start from grid 8 for the final race.
■Sept 16, (Sun) Mission Impossible! Claiming 3rd by a narrow margin!
16th, Race day. Though the weather forecast's prediction of rain was to begin around 2pm when the race starts, the sky was completely cloudless.
The 81 lap, 300km final race started at 2pm. Kataoka had been selected as the starting driver. To make up for his initial position of 8th place, he starts out aggressively but loses speed from exchanging paint with opponent vehicles. Car 60 (SYNTIUM LMcorsa RC F GT3) weaves through, leaving him in 9th place, and during the 8th lap gets overtaken by Car 88 (Manepa Lamborghini GT3) and falls to 10th.
But from 6th place, starting with Car 25 (HOPPY 86 MC), cars were only millisecond apart and was prone to position changes. At lap 18, a troubled machine was sent to the pit and Kataoka floats to 9th.
During lap 22, he overtakes Car 25 and Car 5 (Mach-Shaken MC86 Y's distraction) and rises to 6th.
At lap 23, they take an early pit-in, replaces the 2 left tires, and send Taniguchi onto the course.
During the out-lap, their position falls to 20th place, but with Taniguchi's excellent driving, he regains their position gradually, placing them back into their starting position in 8th by the 38th lap.
Although Car 61 (SUBARU BRZ R&D SPORT) and Car 10 (GAINER TANAX triple a GT-R) had taken a lead leaving a big distance between following cars, at this moment they were running essentially in 3rd place.
Judging from the fact that there was a gap of over 10 seconds between Car 0 and the following cars, it was though that taking the podium was set in stone. That is until Taniguchi has radioed in a bitter "Tires are wearing". With over 20 laps remaining.
The situation had shifted from a chasing race, to a race to protect the lead. By the 53th lap all cars had pit-in, which had locked in their position in 3rd, but the gap between Car 10 in front was 13 seconds, and the gap between the trailing Car 88 was 10 seconds.
Car 88 gradually closed the gap by 1-2 seconds per lap in the following laps and was a tail-to-nose battle on the 60th lap.
With more than 10 laps remaining, Car 0 was struggling but was gradually pulling away from Car 88, and at lap 63 a safety car was thrown in to the course due to a crash.
Cars were lined up at the home-straight, and the race was restarted. The safety-car was pulled out by the 70th lap, and the sprint for the remaining 6 laps had started.
Tires were worn, but so were the tires of Car 88. Both cars were putting up a close fight, but Taniguchi did not give in.
The audience watched the fight for 3rd place with white-knuckles.
Approaching the final corner were 3 cars side-by-side with Car 0, followed by Car 88, and Car 34 (Modulo KENWOOD NSX GT3).
Car 34, a car that was below 10th place had made a tremendous come-back after the safety-car had been pulled from the course. The cars crossed the checker line in the order of Car 0, Car 34, and Car 88. There was only 0.057 seconds between Car 0 and Car 34, and 0.008 seconds between Car 34 and Car 88. Car 0 took the podium at 3rd place by literally "by a nose".
Sports-land SUGO was not a best fit for the car, but 10 years from initiation of the Hatsune Miku GT Project, they have finally been able to stand on the podium. Furthermore, placing 3rd at SUGO, has contributed to their season ranking and jumped them up from 6th place to 3rd (With equal points as 2nd). There are 7 points between them and the top runner Car 55 (ARTA BMW M6 GT3) with 2 more races to race.
This season was a struggle in the first half, but they are finally beginning to see the light in the second half.
From taking a stand on the podium consecutively from Fuji to SUGO, they will keep this flow alive and move forward to the next race at the Autopolis (Oct 20 to 21)
■Team Comments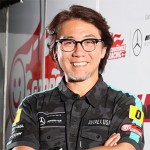 Team Owner:Takanori Aki
We honestly didn't expect to place in 3rd and am surprised at the result. 3rd place seemed to be a long shot, but out strategy was to get as far as we could. Undercutting didn't backfire at us, and Taniguchi's stint and lap times were good. Everything seemed to fall perfectly in place.
Taniguchi's blocking techniques before and after the safety-car was just astounding, and since the season top-rankers didn't score high this time, we were able to jump up on the season ranking. There's only 7 points between us and the top, and we are looking forward to the remaining 2 races.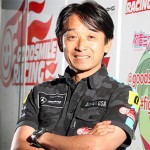 Team Manager:Ukyo Katayama
Our Kouno engineer had created our strategy, and it worked out very well. At first, we were focused on at the minimum, keeping our track position, but we were very lucky where we were positioned when we got back onto the course, and Taniguchi made an excellent run. A safety-car entered the course at the end, but he put up a great fight protecting his position. I feel that we have finally came up with a strategy for the "S" circuit. Only 7 points between us and the top. Champion seat is now visible.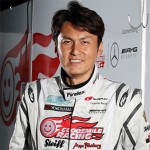 Driver:Nobuteru Taniguchi
This race was intense. Kataoka ran the minimum, only two left tires were changed, and I ran 50 laps. But since where we had pit-out was clean (no other cars), I pushed the car to its limits. I think this was the main reason we were able to place 3rd. But at the 20-lap mark the tires were worn and knowing that there were still 30 laps remaining was very strenuous. Car 88 had caught up to us, but since their tires were also worn, it became a game of patience. Thanks to the pace-car, we were lucky that the remaining laps went down to 6, but the race ended up being like a horse-race at the end.
Regardless, I'm grateful for placing 3rd. We now have the rights to a champion in our sights and am going to give my best for the remaining two races.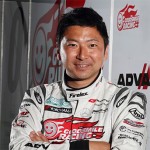 Driver:Tatsuya Kataoka
The first half didn't go too well. I went in aggressively to exchange paint with other cars, which led to a couple cars overtaking us. But around the 20-lap mark, cars around me began loosening their pace, which I took the opportunity to pass 3 cars. At this time, judging from how the rival's times fell, and our tires stability, I knew there was hope for our stint in the second half.
Taniguchi kept a good pace, and the top group's decision of not to pit-in despite their slower times made us advantageous. Tires were worn by the second half, but Taniguchi put up a good fight. By the team working together as a whole, we were able to capture and guard this 3rd place position.