GOODSMILE RACING & TeamUKYO RACE REPORT 4
2019 AUTOBACS SUPER GT Round4 Chang SUPER GT RACE
Dates: June 29th to 30th, 2019
Venue: Buriram United International Circuit
Weather: Fine
Spectators: 30,900 (over 2 days)
Qualifying: 8th
Final: 12th
Driver Points: 0P
Driver Points Ranking: 11th (14.5P)
■FreePractice_QF1-2
The fourth race of the year, held at Chang International Circuit in Buri Ram, Thailand on June 29th and 30th, was a turning point in the 2019 SUPER GT season.
Coming off three consecutive top ten finishes to start the year, GOODSMILE RACING & Team UKYO drivers Nobuteru Taniguchi and Tatsuya Kataoka had fought through the cold racing season, which tends to bring about tire difficulties, followed by a fourth place finish in brutally hot conditions at Suzuka. Now they looked to keep pushing forward with the Thai Round race, held at a course in the subtropics that had treated them well in past years.
Despite a 29 kg weight handicap due to previous results, the machine's BoP (balance of performance) was minus 5 kg, and due to other improvements such as fine tuning the fuel's air to fuel ratio, the machine's performance conditions were ready to give them an extra boost.
The pit included groups of racing cosplayers dressed up as local supporters, and there was a buzz in the air with the ever climbing popularity of the Hatsune Miku GT Project and the continually growing "passion" of the fans in Southeast Asia.
Official practice began at 10:00am local time (noon in Japan) on Saturday. The road surface conditions remained good, and twenty minutes after the session started, Kataoka took to the course. Despite an accident that left the pit building temporarily without power, making the timing monitor unavailable, he stared down the tough heat and put together an energetic series of short runs.
During that time, there was a change made with the Brembo brake rotors, which are new this year, and the tires were continually evaluated and adjusted. With the final tire set he achieved his best time of 1'33.733, good for 8th place. After completing nineteen laps, he passed things over to Taniguchi.
Right after the switch, Taniguchi knocked out some laps to get a feel for the pace of the race, but before ten laps were completed he made his way toward the GT300 class practice area, returning to the pit for a change of tires before moving on to preliminary simulations. He made an attack on his second lap, improving the time to 1'33.034, climbing into 4th place. With this fastest lap in his back pocket, he was on his fourteenth lap when #34 (Modulo KENWOOD NSX GT3) went off the course, ending the session with a red flag.
Based on this official practice time, just like at Suzuka, Taniguchi would be driving in preliminary Q1, with his run coming right at the start of the session at 3:00pm local time (5:00pm in Japan). A slightly cloudy sky and a temperature of 33 degrees Celsius, with a road surface temperature of 40 degrees Celsius, made for a slightly cooler thermometer reading than is normally found in Thailand. With a sparse twenty four car field featuring five fewer cars than normal, he kicked things off with a 1'33.413 pace, making that the target time for Q1.
On his second attack lap he put up a slightly slower 1'33.6, and after a couple of cool down laps he once again put up a 1'33.6, unable to improve on the time. Nevertheless, this was good for 6th as he easily got through Q1.
In Q1, four of the five cars were Nissan GT-R NISMO GT3, as the conditions clearly favored GT-Rs, and at 3:45pm (5:45pm in Japan) it was time for Kataoka to take the wheel in preliminary Q2. Just like Taniguchi he looked to put up a good time on his first attack lap as he reached the 32 second range, recording a time of 1'32.767. On his next lap he put up a 1'32.9, remaining in that 32 second range and unfortunately unable to improve the time.
The Mother Chassis #25 (HOPPY 86 MC) bested its own course record time, and GT-Rs looked strong as the Honda NSX GT3 also rose in the preliminaries, and GSR ended in 8th position, as they moved their attention toward doing well in the final race.
■Race
Sunday morning began, not with a squall as is often seen in Thailand, but with a continuation of the previous day's dry road surface, as things moved from the Circuit Safari to free practice to warmups, and Kataoka's race pace was consistently in the 1'34 to 1'35 range. With a 5th in the free practice and a 12th in the warmups, the GSR Team kept making adjustments as the final race at 3:00pm local time (5:00pm in Japan) drew near.
Chang International Circuit is unique with its grandstand on the third story of the pit building, and in the stands both Japanese flags and large GSR flags could be seen waving. The sixty six lap final race got underway with a temperature of 32 degrees Celsius, a road surface temperature of 48 degrees Celsius, and a humidity level of 64%, just as you would expect to find in Thailand.
As usual, steady starter Kataoka would guide GSR through the first half, and with the start tire lottery he proceeded to the grid with the A set of tires used in Q1. However, on the opening lap, the condition of the tires due to the tire compound, along with midship traction issues, caused him to be passed by #21 (Hitotsuyama Audi R8 LMS), then on the next lap he was also passed by #33 (Eva RT Shogouki X Works GT-R), falling into 10th place.
Despite this, he continued to work the tires along, and by the third lap Kataoka had stabilized in the 1'35 range, and on the seventh lap he chased down #55 (ARTA NSX GT3), which had fallen back from the 5th position. He continued pushing on as he caught #21, then he passed it on turn three of the thirteenth lap with some smooth braking. Having regained his grid position, he continued with his flawless attention to the tires, setting his sights forward.
As he closed in on 7th place #33, which at one point was about 4 seconds ahead, 6th place #65 (LEON PYRAMID AMG) made the first move toward the pit, completing a pit stop in just 34.1 seconds with a clever plan of exchanging the front two tires. During this time, #4 GOODSMILE Hatsune Miku AMG GO overtook the #33 GT-R and rose as high as 6th. Taking advantage of the space created as its rival teams went to the pit one after another, it pushed forward for a long first stint, and to minimize the amount of time spent refueling, Kataoka kept moving forward.
On the thirty third lap, with GSR having risen all the way to 2nd place, there was an accident in the GT500 class, with a multi vehicle crash involving three NSX-GTs. At this time, 1st place #7 (D'station Vantage GT3) turned its nose at a pit close, proceeding to change drivers immediately.
In the past five years the GSR Team had not gotten tangled up with the safety car (SC) even once, and with the crashed vehicles being in a runoff area on a wide section of track, it decided to stay out on the course, but cruelly Race Control brought out the safety car.
This ended up being a pivotal moment in the race. While the safety car was out, GSR ran in 1st place. Because the rules required a driver change following the restart, a big drop in position was unavoidable. On the forty first lap, #4 flew into the pit, and Taniguchi got behind the wheel as just a splash of fuel was added before he quickly left the pit. Trying to save as much time as possible by not exchanging tires, they would need to rise in position in the second half stint.
Soon after returning to the track in 14th place, #4 Hatsune Miku GO and Taniguchi put up a final race personal best time of 1'34.464 on the forty fifth lap. Trailing #61 (SUBARU BRZ R&D SPORT) by about 35 seconds and doing everything possible to close the gap with a 1'34 to 1'35 pace, the race came to a close after GSR reached 13th place on the sixty second lap. Following the race, 9th place finisher #21 was demoted due to penalty, and the weekend in Thailand ended with a 12th place finish.
The private sponsor public viewing in Shibuya, Tokyo was completely packed, but unfortunately they did not get to witness a high ranking finish in Thailand.
Just like at Suzuka, the safety car decision impacted the race, and GSR experienced both the positive and negative extremes in the results, with the midsummer race at Fuji looming. The fifth race will be August 3rd and 4th, and at the long 500 mile (approximately 800 km) race, we are sure to see a strong counterattack befitting GSR.
■Comments from the Team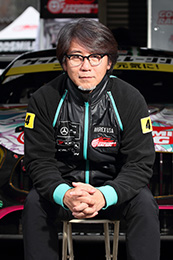 Team Owner: Aki Takanori
It has been this way at every race so far this summer, but right now we cannot win based on strength, so our only option was to aim for a high finish based on strategy. Specifically, we chose to go with relatively long and strong tires, and we planned to stay out and get an early advantage as other teams entered the pit, but the safety car came out at a bad time for us, so we completely lost our opportunity to win. It is a tough pill to swallow, but right now the fact is that this type of strategy is our only path to victory. Looking to the second half of the season, I hope we can get stronger.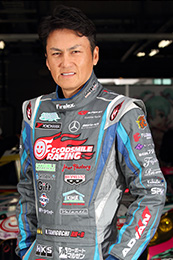 Driver, Nobuteru Taniguchi
Right from the official practice, that "we can win" feeling was never there, so we just wanted to do everything we could to claim as many points as possible before returning home. We decided on a strategy of not exchanging tires, and we went for a minimum of fuel thinking that the race might unfold with a tight pack up front and a lower pace, but just the opposite happened as the pace was high, so with space open ahead of us we decided to push it. With a good pace we were pushing toward our max when, unfortunately, the safety car came out. With only about twenty five laps to go we had lost our chance at a win. That's when I took over, but I was unable to reclaim our position. We had pushed so hard to get that far, so it was really unfortunate. But, there are still four races left on the year, and we will keep fighting right down to the end.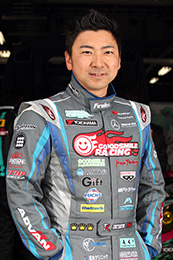 Driver, Tatsuya Kataoka
Throughout the weekend the condition of the car got worse, and with a small error at the start our position fell, then we kind of got caught up with the car ahead. After that, we got back on pace and passed three cars, and our pace was good, so we decided to change our strategy to really push (on my stint). I saw the ARTA NSX stopped due to the GT500 accident, but it did not look like a situation that warranted a safety car, so by pushing on there we ended up losing our chance at a win. The condition of the car wasn't really bad, but I guess you could call it a strategy error. Or maybe you could say we missed our timing, or that it was bad luck. That was pretty much the entire race.