2022 AUTOBACS SUPER GT Round 5
FUJIMAKI GROUP SUZUKA GT 450km RACE
Dates: August 27th-28th, 2022
Location: Suzuka Circuit (Mie Prefecture)
Attendance: 9,000 people (prelims) : 16,500 people (finals)
Prelims: 5th
Finals: 1st
Points earned: 20 points
Series rank: 5th (24 points)
In the previous round "FUJI GT 100 LAP RACE," held at Fuji Speedway, Car No. 4 (GOODSMILE Hatsune Miku AMG) ran a solid race until the very end, and everyone was confident of its first victory since the opening round of the 2017 season, 5 years ago. However, Kataoka's tire management was in vain, and on the 77th lap of his final stint, his left front tire went flat at the first courner boule king. The team finished the race in 13th place and with no points, making it a weekend that turned heaven into hell for the team.
Three weeks later, Round 5 took place at Suzuka. The second race at Suzuka Circuit this season will be held over a distance of 450 km, following Round 4 at Fuji. For this round, the balance of performance (BoP) of the Mercedes-AMG GT3 was changed from 36mm x 2 used at Fuji to 34.5m x 2 used for standard circuits. The BoP weight was +45kg, 5kg lighter than Round 3 at Suzuka, but the gross vehicle weight was the heaviest of its class as usual at 1,330kg. Car No. 4 adds another 12kg of success weight (=SW) on top of the BoP weight.
Furthermore, Suzuka Circuit has been something like an Achille's heel for the Hatsune Miku GT Project, as it has failed to win or even get on the podium for more than 10 years since the project started in August 2008. Although a podium finish was achieved in Round 6 in 2020 and Round 3 in 2021, both times they finished third, still without a win.
Against this backdrop, no one expected that Car No. 4 would once again make a great run, electrifying the circuit.
[August 27th (Sat)]
Weather: Cloudy
Course: Dry
Air/road temperature: GT300 Q1 start: 31℃/38℃
GT300 Q2 finish: 31℃/38℃
Although there were concerns about an upset in the weather in the advance forecast, the official practice session began at 9:25 a.m. on Saturday morning in dry conditions. Atmospheric temperature was 30 degrees Celsius and track surface temperatures were 34 degrees Celsius.
As usual, Kataoka was in charge of starting the session. As soon as he started the run, he marked the time 1'58.949 on the 5th lap, taking 2nd position in his class. On the following lap, he improved that time to 1'58.676. Suddenly coming out on top, he returned to the pit.
His top time was broken again when the car had been warmed and another set of tires had been brought in. On the 10th lap, he set a new best time of 1'58.022. With everything feeling in place, the team moved on to the long run, where they again set times in the 2'01 range.
At this stage, Kataoka himself was still skeptical, remarking that in terms of performance, "I…might…be able to win," but also said, "No, no, it's Suzuka, so that's not possible…" Kataoka completed 21 laps and and handed over the baton to Taniguchi.
Taniguchi continued to verify his race lap times and maintained a good pace in the 2'01 range as well. In the class-exclusive run starting from 10:50 a.m., he measured the degree of tire wear through a long run instead of a run simulating the prelims. On his 16th lap, just before the end of the exclusive running session, he marked 2'00.861, his best time. Even as time went on, he completed 18 laps without slowing his pace, which had been a concern.
He finished the session with the top time in his class, as he had done in the previous round.
The schedule was then delayed by 20 minutes due to the red flag suspension during the official practice session, and the official prelinaries began at 3:20 p.m.
In Q1 of the prelims, the 27 cards entered were divided into two groups in order of ranking, with GOODSMILE RACING & TeamUKYO assigned to group B. Taniguchi was in charge during Q1, while Kataoka, who set the best time in his class in the official practice, was left to tackle Q2, aiming for pole position.
At 3:38 p.m., Q1B of the prelims begins. The track surface temperature rose to 39 degrees Celsius. While all eyes were on how this change would affect the selected tire compound, Taniguchi entered the track early in the session and passed two cars at the front during the warm-up lap, securing clear space for his attack. On the 4th lap, he recorded a time of 1'58.674, and with about 1 minute remaining, he was provisionally in 6th place. Later on, cars No. 50 (Arnage MC86) and No. 20 (Shade Racing GR86 GT) surpassed Taniguchi's time, while No. 4 dropped back to 8th place at the cut-off line. Even so, Taniguchi continued to improve his time slightly with 1'58.646 on the following lap, overtaking No. 52 (Saitama Toyopet GB GR Supra GT) that continued to attack. He safely made it through Q1 in 8th place.
After Q1 of GT500, Kataoka takes on the challenge of Q2 starting from 4:13 p.m. Car No. 244 had a quick warm-up and set a good time of 1'56.995 early on to take the provisional top position. While other cars were setting times in the 1'57 range one after another, No. 10 (TANAX GAINER GT-R) set a time of 1'56.941, taking pole position with the new top time. With less than a minute remaining, Kataoka set his best time of the day of 1'57.664, but had to settle for 5th place. Although he was aiming for pole position at one point, as Kataoka recalls, "I was able to get through the biggest bottleneck of the prelims with 5th place, so I thought that we'd have a chance." Finishing 5th on the grid was good enough for a top position in the race of the following day.
[August 28th (Sun)]
Weather: Clear
Course: Dry
Air/road temperature: Before start (14:25): 30℃/40℃
Start (14:55): 31℃/43℃
Intermediate (15:28): 31℃/42℃
Final (16:28): 30℃/38℃
Goal (17:15): 29℃/36℃
In the last weekend of summer vacation, a large number of spectators continued to throng the circuit on Sunday, as they did the day before. During the pit walk, which was a great success, many fans cheered for Team Manager Katayama, Taniguchi, and Kataoka, hoping that they would win the race. In the warm-up session that started at 1:10 p.m., starting driver Kataoka lined up in the 2-minute range while checking his race setup and fuel load, showing his spirited driving in preperation for the finals race.
The team adopted a strategy based on a favorable race pace, with the two pit stops required for refueling being split evenly over the distance of the race. Unlike the previous race, Kataoka's double stint from the start was followed by Taniguchi in the last stint.
At 2:30 p.m., with the temperature rising to 30 degrees Celsius and the track surface temperature to 39 degrees Celsius, the temperature was expected to rise further early on in the race due to the sunlight. A parade lap led by the Mie Prefectural Police motorcycle squad and police cars commenced, followed by a one-lap formation. Finally, the final race was about to begin.
Kataoka in Car No. 4, Hatsune Miku AMG, first jumped into the 1st corner in 5th place and held off No. 55 (ARTA NSX GT3) who started in 8th place, and kept his position. At the 130R, he was able to get in front once but fell back after braking at the following chicane, and returned to the control line in 5th place, which he had started in.
Kataoka was able to put up race laps in 2'01 range as expected, and although the Japanese-made GT3 Car No. 55, which excelled in straight-line speed, was close behind him, he was able to fend it off with skillful defense. At the same time, Kataoka was able to catch up with No. 56 (Realize Nissan Mechanic Challenge GT-R) which was in front of him. Nonetheless, he was unable to overtake the GT-R, which was already carrying 100kg of SW but excelled in accelerating around corners.
In order to avoid any loss on the course, the team called Kataoka back to the pit at the end of the 16th lap, earlier than planned. After refueling and changing tires, the team sent Kataoka back out on the track. At this point, Kataoka was in 16th place. Car No. 55 entered the pit at the same time as Kataoka, but since it only refueled and did not change tires before getting back on the track, it surpassed him.
After the first pit stop, Kataoka commented, "I was pleasantly surprised that we were in front. While I wondered how much we would get caught up with the non-exchange group, we were able to pass them with almost no stress. That was also a big factor." With fresh tires, the team set a personal best time of 2'00.790 on the 19th lap, and a high-speed chase with their rivals ensued. The "Splash Team" running in front of the field took out No. 20 (Shade Racing GR86 GT) at the final corner on the 21st lap, No. 52 (Saitama Toyopet GB GR Supra GT) at the hairpin on Lap 27, and No. 2 (muta Racing GR86 GT). On the 33rd lap, Kataoka overtook No. 55 again on the opposite bank, and moved up to the top of the mandatory pit stop group. In other words, the team was effectively in 1st place.
While Kataoka confronted the lead pack of the GT500 class at the Degner curve and had to give way to the outer side, he continued to set consistent lap times of 2'02 to 2'03. However, he decided to play it safe based on his frustrating experience in the previous race, and entered the pit for the second time after 42 laps, slightly earlier than scheduled. After refueling, changing tires, and switching drivers, Taniguchi was entrusted with the final stint.
Just two laps after returning to the course from the pit, a major crash occurred on 130R when Car No. 244 (HACHI-ICHI GR Supra GT) suffered a tire burst, went off the course, and plunged into the tire barriers. As a result, an SC run was declared. For a moment, the thought crossed the team's mind that this might spell trouble for them. This was a tailwind for No. 4, however. Having already completed its mandatory pitstop, it could take care of No. 55, which was close behind, and help fix its tires.
On the 51st lap after the SC run, No. 11 (GAINER TANAX GT-R) in front entered the pit, moving No. 4 up to 4th place. On the following lap, it passed No. 96 (K-tunes RC F GT3) into 3rd place, and the lap after, passed No. 18 (UPGARAGE NSX GT3) as it made its mandatory pit stop, rising to 2nd place.
Then came the 60th lap. No. 50 (Arnage MC86), which had been leading the pit until the end, also pitted in. With that, Taniguchi finally took 1st place—"P1." All the arrangements were now in place to take revenge for the team's previous round.
On the 64th lap, No. 55, which had been competing for the position from the start left the field due to trouble. The pole-sitter running on Dunlop tires, No. 10, was closing in from behind. Taniguchi remarked that at this point, "I was totally anxious because of what happened last time. I wondered if I could make it to the finish line. So…I did my best to manage my tires and truly prayed until the last minute before the finish line. I didn't want to have another burst…like last time!" Taniguchi focused all his attention on the feeling of his tires and the rearview mirror as he closed in on the finish line. In the final stage of the race, the team faced a predicament when No. 5 (Mach Syaken Air Buster MC86 Mach), which lapped late, intercepted No. 4 and blew out the margin between it and No. 10. In the end, however, the margin increased to 3.407 seconds, and on the 72nd lap, Taniguchi finally took the long-awaited checkered flag, finishing the race victorious.
This result was a double breakthrough, as it was not only the first victory for GOODSMILE RACING & TeamUKYO and Taniguchi/Kataoka in five years since the opening round in Okayama in 2017, but also the team's first victory in Suzuka.
For the past two years, the team has been working closely with the Mercedes-AMG Customer Racing division in its home country of Germany. Since the beginning of this season, the team has also invited performance support engineers from HWA AG and strategy engineers from the previous round to strengthen its lineup. "I think the progress in their understanding of Japanese circuits and tires has also had an impact. Because if their efforts, we were able to make it this far," solidly responded Takanori Aki, the team's representative. This race brought great relief for the team.
However, Aki further added, "Just one victory is not enough to be called an achievement. I wondered why everyone was not completely happy about it. We need to reanalyze the situation, including the teams around us. 'In these conditions we'd have a better chance of winning,' things like that. If we look back on the situation in detail, perhaps we will be able to see something. If so, we will try to create such conditions."
With this win, the team gained 20 points and moved up to 5th place in the driver's rankings. In Round 6 at Sportsland SUGO, with a 72kg SW, the weight difference with the top teams will increase, and a tough battle is expected once again. Even so, the team will still work as one to aggressively pursue victory in the remaining three rounds.
■Comments from the Team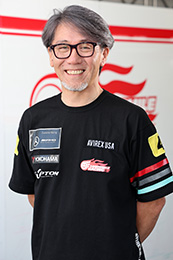 Team Owner: Aki Takanori
Thank you so much! This week, we were fully prepared as usual and, having reflected on the last race, we thought this race was more about safety…or, rather, how well the tires we had prepared would be protected. Our BoP was less favorable compared to last time, so I didn't feel like we could win. We went into this race with a "let's put up a good fight" sort of mindset. It wasn't so much that we were fast, but that the other teams did not come as fast as we thought they would. Then, all of a sudden, we had a chance. The superior teams were loading up their weight, so having a long-distance race at this time of year made it easier for us to "catch" them. If we had won at Fuji the last time, we probably wouldn't have won this time because of the SW. Well, of course it would've been better if we won the last time (laughs). It has been so long since we've won in the first place. I forgot how to be happy about it, and yet my heart rate elevated, so I was in trouble (laughs). Since this is our first win in Suzuka, I feel like we have cleared one more thing that needed to be cleared.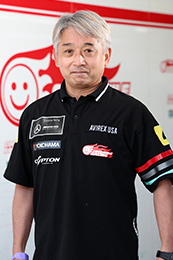 Team Manager, Ukyo Katayama
To be honest, I really doubted that we would win. When we were asked why we won this time, I could say that it was because the teams around us stocked up on weight, or some other commonplace factor. But the real reason above all else…was Mr. Aki. I was genuinely impressed that he brought in car performance engineers and race strategists from Germany, and that the people in charge of F1, FE, and Indy cars came to the event on a rotating basis. This week went too perfectly, which in turn made me feel conflicted. That's when the engineer was able to tell me "We're going with this." Without those words, I probably would have gambled and missed…most likely. But still, I never thought it would be so hard to win a race, and that we'd be so happy doing so. I've been racing for a long time, and while I wasn't so frustrated about what happened last time, I've never been as happy as I am now (laughs).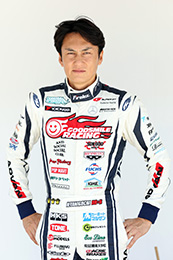 Driver, Nobuteru Taniguchi
It's been five years since we won, and our last round went "from heaven to hell." I'm happy to win, I sincerely am, but really, right now…I feel more relieved than anything. Thankfully, I have received congratulatory messages from various people right after the race, and I'm sure I'll start to feel it more and more after this, but you know…I had to win this race. I've forgotten about it already (laughs). Honestly, "victory" didn't cross my mind at all when I rode into Suzuka, and in that sense, our win was a "happy miscalculation." While there was the fact that the strong teams were heavier, on the other hand, if we didn't win here, we wouldn't have a chance to win again. This time, our race pace was good but our rivals were also very fast from the prelims. In the final race, I was worried about whether I would be able to pass them (due to the characteristics of the car), but Kataoka drove very well and passed the baton to me while he was in the lead. This is a really emotional moment for me. This is the team's first victory in Suzuka, and in many ways…I am happy (tears).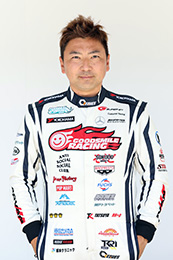 Driver, Tatsuya Kataoka
Comparing it to our previous round at Fuji, the atmosphere was kind of similar from the beginning of the weekend, so I thought that victory might be visible…just as it was at Fuji. To put it another way, the atmosphere was not one of "Yay, we can win!" but rather, "You never know what might happen" until we took the checkered flag. We had to be on our toes until the very end (laughs). As for my stint, it went pretty much as expected, and right after the start, I feel like I "tried my best." All I had to do was keep up the pace and overtake the cars that caught up with me. The reason for our good performance in both Fuji and this race is still unclear, and the teams that were originally fast are now heavy. In that sense, I would say that I was "elected to be the winner" this time. We just missed the chance to win last time, and it is not easy to get a chance like that right away. Yet, we did not expect to win it back the very next time. In that sense, I am glad that we were immediately able to make up for the disappointment of our fans—and even ourselves—about not winning when it seemed like we would.