2017 AUTOBACS SUPER GT Round 5 FUJI GT 300km RACE
- August 5, 2017  Qualifying:3rd
- August 6, 2017  Finals:2nd
3rd place in the the qualifying round, 2nd place in the final race while loaded with 70kg of weight
■ August 5th (Saturday) The top time temporarily too! Obtained third place in the qualifying round
The GOODSMILE RACING & Team UKYO approached their third race in a row, with the 4th SUPER GT race at Sportsland SUGO two weeks ago, the 24 hour race at the Circuit de Spa-Francorchamps (Belgium) a week ago, and now the 5th SUPER GT race at the Fuji Speedway. Although they obtained the pole position in the second race at Fuji, they suffered two punctures in the final and lost the rights to victory. This time they want revenge at any cost.
Although the probability of rain was high according to the prior forecast, it was sunny for the qualifying round. Conditions were dry from the practice runs.
The attack started with Taniguchi in this qualifying round. He observed the condition of the course for a while immediately after the qualifying round started, and left the pit after the other cars had driven about two laps. He started driving and recorded "1'38.685″ on his fourth lap, and passed the first qualifying round in ninth place.
Kataoka was in charge in the second qualifying round. He emerged onto the course and improved his best time with "1'38.240″ on his third lap and "1'38.078″ on his fourth lap. He was temporarily in first place until midway, but car No. 55 (ARTA BMW M6 GT3) and car No. 7 (Studie BMW M6) drove the 37 second range and BMW monopolized the front row, and he completed the qualifying round with a third-place result. When you consider that he was carrying a 70kg weight handicap, I think you can say that this was the best result. The final race started from the third grid.
■ August 6 (Sunday) Both the tires and the setting are fit and fast
Regrettably he missed out on first place, but his ranking improved!
It was clear on the day of the final race. According to the forecast, it looked like it would rain before the finals, but it was somewhat cloudy and there was no sign of rain, the temperature was 26 degrees, and the road surface temperature was 36 degrees, so we decided to start with a slick tire. Kataoka was entrusted with the initial steering. On the first lap, he came back in third place on the home straight without losing his position. Car No. 55, which was driving in first place, was fast-paced and was quickly able to widen the distance, but he chased car No. 7, which was in second place, tail-to-nose.
He was driving at almost at the same pace as car No. 7, and he couldn't quite pass it, but car No. 31 (TOYOTA PRIUS apr GT), which was controlling the contest for fourth place, was approaching directly behind in that gap. From here it became a continuous defensive battle to stop car No. 31. The battle was deadlocked for a while, but car No. 31 made a pit stop. Miku AMG also entered the pit on lap 26 and changed four tires, changed the driver to Taniguchi, and returned to the course.
Although he fell to below 10th place on the out lap, on the straight end of lap 34 he passed car No. 61 (SUBARU BRZ R & D SPORT), which had passed him once, and moved into 9th place. After that, there were some pit stops from those around him, and he raced to fourth place on lap 40. Immediately after that, he caught car No. 31 on lap 41 and took third place, and moved up to second place on the 44th lap when all the other cars made pit stops. The difference between car No. 55, which was in first place, had closed to 3.6 seconds, and he was beginning to see the top of the podium.
However, the pace of car No. 55 also increased, and furthermore, because Miku AMG had been forced to control their fuel consumption while driving, the difference widened steadily. They remained in second place until the goal. They stood on the winners' podium for the first time since the opening race of the season.
Due to this result, they were able to take back first place in the series ranking. They currently have 50 points, and there are nine points separating them from second place. They are at quite an advantage in terms of the championship, but when you consider that there are still three races remaining and that at the next race at Suzuka they have to drive 1000km loaded with a 100 kg weight handicap, they cannot be overconfident.
The 6th SUPER GT race at Suzuka Circuit, the 1000 km tradition, will end this year. They want to earn as many points as possible in the last 1000 km and provide momentum to the championship.
■Comments from people involved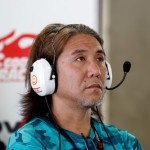 Team Owner:Takanori Aki
We were fast when you consider that we were loaded with 70 kg of weight, and I think Yokohama's tires were good. We were able to overcome the negative course of events from Spa, and it was the best result in our present condition. However, we were almost able to capture first place, so second place is disappointing. We used a lot of fuel, so we ended up having to restrain ourselves in the second half. We wanted to put a little more pressure on first place. At the next race at Suzuka we have to drive 1000km loaded with 100 kg of weight, so it may be tough to break into the rankings, but it's 1000 km, so nobody knows what will happen until the end, and we won't give up without a fight.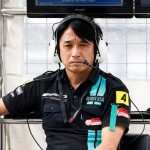 Team Manager:Ukyo Katayama
I'm really glad we didn't stop halfway through … The soft tires functioned well thanks to the fact that the road surface temperature didn't increase, and we were able to finish in a higher position than were expecting. The force of our competitors also dropped, and if you look at it as a whole, it was a race where the current was with us. Of course there are cases where it's the opposite, so you have to focus your mind. Still, I'm relieved that we're at the top of the series ranking. The next 1000 km will be a difficult battle.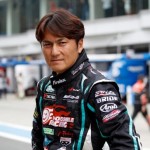 Driver:Nobuteru Taniguchi
We started in third place in the qualifying round, so I was concerned with the temperature of the road since we had chosen soft tires, but the temperature fell before the final race started, so Kataoka was able to come back without conceding his position. In the pit, the group who were not changing tires had gone ahead of us, but I was able to catch both cars No. 61 and 31, and I could see car No. 55 in first place too, so I was fired up, thinking "I'm definitely going to catch it!", but the pace of car No. 55 increased from midway too, and fuel became tight for us as well, and because the car in front was getting further ahead and the car behind wasn't catching up with us, we decided to hold on to second place. I wanted to catch up with car No. 55, but I think being able to finish in second place with a 70 kg weight handicap was a better result than I expected. We are also first in the series ranking, and it was a good weekend for us. I was able to vent my anger at SPA.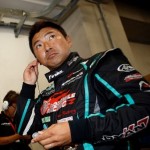 Driver:Tatsuya Kataoka
First of all, I am satisfied that we were able to finish in second place, a higher position than we had expected. We were also first in the series ranking. The race itself was also good, I had imagined a more difficult race, but considering the fact that I attempted it with a load of 70 kg, it wasn't that stressful. However, I think that the Suzuka 1000 km next time will be difficult, but the fact that we have created an advantage of nine points below second place in the series ranking at this early stage was the refrain of a good season.