2017 AUTOBACS SUPER GT Round 6
46th INTERNATIONAL SUZUKA 1000km
- August 26, 2017  Qualifying:4th
- August 27, 2017   Finals:19th
No points for the last Suzuka 1000km due to 3 flat tires
■ Saturday, August 26th Finished qualifiers at 4th while carrying a 100kg load.
Qualifiers started from the early afternoon, in the scorching heat. Again this time, Taniguchi will be in charge of driving for the first qualifier. At first, in order to see the condition of the road and the course, even if our rivals went out, we didn't move from the pit, adopting a wait-and-see stance. As soon as it looked like we could take a clear lap, we launched into the course. After running 3 laps, we were at "1'59.479," for the 8th fastest time, and with that passed the first round of qualifiers.
Kataoka attacked the 2nd qualifying round. As in the first round, we watched the situation from the pit for a while before starting. Then, on our 3rd lap, we had "1'58.235," shaving more than 1 second off of the previous time, and qualifying at 4th place. Considering that we had a 100 kg weight handicap, it was a more than adequate position. Manager Ukyo and the drivers were also unable to hide their surprise at this great showing.
The Suzuka 1000 km is an important race, and it is considerably advantageous to start from the 4th grid.
■ Sunday, August 27 Although we ended with no points, we are in 2nd place
As the distance of this race is more than 3 times the usual, the race was scheduled to start at noon and finish at 6:00 PM, sunset. After an early morning pit walk was finished, we soon progressed to the start.
Kataoka served as the starting driver. On the first lap after the start, we unfortunately let No. 51 (JMS P.MU LMcorsa RC F GT3) pass, and dropped to 5th place. After that, we were sandwiched between No. 51 and No. 60 (SYNTIUM LMcorsa RC F GT 3), and this battle continued for awhile. In order to slip out of this bind, we went in for our first routine pit in on lap 13. Four tires were exchanged, Taniguchi stepped in as driver, and we returned to the course.
Despite dropping to 27th place in the out lap, our rivals also started their routine pit ins, and by lap 32 we had regained 5th place. However, on lap 34 we were again passed by No. 51 and dropped to 6th place. On lap 38 No. 55 (ARTA BMW M6 GT3) crashed and a safety car entered the course. On lap 43 the race was restarted, and soon after that we took our 2nd pit in. Kataoka took over as driver, 4 tires were changed, and we left the pit.
We dropped to 19th place, but by lap 71 we had risen back to 8th place. On lap 74 we took a third pit in, replaced all of the tires, and Taniguchi again took the steering wheel. Again we dropped to 17th place, by lap 82 we had risen to 12th place, but on lap 87 No. 31 (TOYOTA PRIUS apr GT) suffered a crash, and the safety car entered for the 2nd time. At this time, No. 18 (UPGARAGE BANDOH 86), which had been running in 1st place, entered the garage with machine trouble (returning again after awhile), and the direction of the race became increasingly unpredictable.
The safety car left on lap 94 and the race resumed. Miku AMG gradually rose through the ranks, and by lap 106 had reached 4th place, returning to the same position reached in the qualifier. Then, on lap 107 we took a 4th pit in, exchanged all the tires again, and sending driver Kataoka back onto the course.
Although we were ranked 13th, on lap 117 we reached 11th place, and it looked like we would keep rising as we were, but on lap 124 the right front tire suffered a slow flat, and had to make an emergency pit in. We switched to driver Taniguchi in a great hurry, switched all 4 tires, and put the pressure on to get back to the point zone, no matter what it took. On lap 135 he recorded a "2'02.263", which was a new best time, and he was getting back into good shape, but he couldn't manage to get past 10th ranked No. 11 (GAINER TANAX AMG GT3), and we entered the final stage entangled with them.
However on lap 150, a right tire, this time the rear one, burst. As it was at the end of the course, the time loss was minimal, but since this time we were forced to go halfway around the course, it became completely impossible to get back into the point zone. After the pit in, we didn't change the driver, but after returning to the course after only exchanging the tire, a nightmare struck and another burst happened at the same place. Taniguchi pit out again, but the race came to an end and we reached a painful finish in 19th place with no points.
That said, 3 minutes before the end of the race, No. 25 (VivaC 86 MC), who had been running in 2nd place, withdrew from the front due to a crash. No. 65 (LEON CVSTOS AMG) climbed to 1st place, dropping our overall ranking to 2nd place but with only a gap of 2 points between us and 1st ranked No. 65, and an 8 point gap between us and 3rd ranked No. 25. The championship is still within sufficient reach.
The weight will be halved for the next race in Thailand, so we want to amass a lot of points and ascend to the championship.
■Team commentary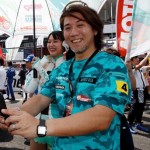 Team Owner: Takanori Aki
I suppose the weight had an effect on everything. I think there were probably a lot of places made impossible by this, and we had high expectations strictly based on a good qualifier. The longer the distance, the more the mother chassis will give an advantage in terms of fuel efficiency and tire durability and such. Because it boils down to about 20 seconds in the pit. But more than that, more than anything else, we were heavy. That exhausted us. It's proof that the weight handicap system is working as it is supposed to. We have only a 2 point gap to the championship, and we'll be at half the weight next time in Thailand. Well, we'll still have 50 kg, though. I want to get revenge in Thailand.
Team Manager:Ukyo Katayama
I'm seriously disappointed, since we had such a good qualifying run yesterday. Still, I knew it was going to be a difficult race since we were carrying 100 kg, and even though we were passed by No. 65, it's still only a 2 point gap, and we still have a sufficient chance of seizing the championship. It's just a matter of everyone going over what went wrong today and really through down the gauntlet with our preparation from now until Thailand. However, we will face strong rivals in Thailand as well. Last year car No. 25 won without exchanging tires, and since they are really quick with oil supply, I think they'll definitely try that again. I think the last race will be even tougher. That said, we just have to do everything we can ourselves.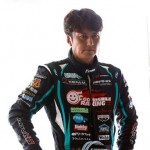 Driver:Nobuteru Taniguchi
Since we were able to get a 4th position start in the qualifier, I ran this race wanting to bring home as many points as possible, but it seems like the 100 kg weight really had an effect, and though we were able to keep a pace as planned, every time we entered the pit our position dropped. In the final stint we had two flats back to back. I went into this thinking that carrying 100 kg for 1000 km, it would be a harsh race where we battled to get 1 or 2 points, but we weren't able to get even 1 point. Our saving grace is that we weren't thrown very far out of the championship. We're only 2 points away from 1st place, and we can still aim for it.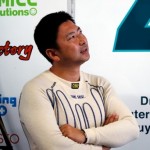 Driver:Tatsuya Kataoka
The car itself wasn't bad, but I was overtaken in a bad start, and from then on my race was spent looking at the back end of the car in front. Even though the car is in good shape it's still heavy, not allowing me to overtake the car ahead. When pitting, as always I got sent out without a hitch, but for some reason I just kept getting overtaken. It was a frustrating situation where the longer I drove the more my position slipped down. In the end I got a puncture. It seems that things don't go well on circuits starting with "Su."