2017 AUTOBACS SUPER GT Round7 Chang SUPER GT RACE
- October 7, 2017  Qualifying:4th
- October 8, 2017   Finals:2nd
Fierce battle during squall in Thailand as 2nd place finish leads to top spot in the rankings!
■October 7th (Sat) 50kg handicap overcome with 4th place finish in preliminaries!
The lone overseas race in SUPER GT takes place in Thailand. Located about 6 hours from Bangkok by car, the Buriram Province hosted the Chang International Circuit on October 7th and 8th.
The preliminary day (Saturday) saw downpours from the morning, and the practice race started out wet, but as it went on the conditions turned dry as the weather changed significantly. Anticipating the road surface drying out the team went with slick tires, and Taniguchi recorded a "1'33.054" time, completing the practice run with the 2nd best time.
The first preliminary was Kataoka's. The squall kicked back up making the road surface wet, so he started with wet tires. On his 2nd lap he recorded a "1'42.521" time, and on his 5th lap he improved it to "1'40.825" as his rivals also showed off their speed, and as he kept falling in the rankings he ended up in 10th place.
The second preliminary was Taniguchi's to attack. Due to the rain the road surface was wet, but it looked like a break in the clouds was coming, so thinking things would quickly dry off he went with slick tires, which proved to be a mistake. He soon had to change to wet tires and then once again launched his attack. After changing to wet tires he posted a "1'39.641" time, but as others also improved their times he slipped down to 5th place. Right when it seemed like he might run out of time, on his final attack he posted a "1'39.531" time good for 4th place, sliding into the second row.
With a weight handicap of 50kg, being able to start the finals from the 4th spot would be a big advantage for the team.
■October 8th (Sun) Winning the tire gamble, first podium since 2014!
On the morning of the finals the rain was once again starting and stopping, just as you'd expect from a southern country. Just past noon the sky had cleared and it was completely dry, but right before the race during the grid walk an intense squall struck the circuit. It stopped before the race began, but the amount of rainfall was significant enough to cause a stream of water on one corner, making for a situation in which it was tough to predict just when the road surface would once again be dry.
With all of this going on, the Miku AMG made the same decision as its rival teams with a last minute change to wet tires. The driver tasked to handle this crazy start was Kataoka. The race began with the safety car out. On the 3rd lap the safety car left, and the actual race finally began. Right from this lap the choice of tires proved important, as the teams that had gone with slick tires couldn't get any traction and quickly fell behind. On this lap Kataoka passed #55 (ARTA BMW M6 GT3) and quickly rose into 3rd place. He then began to track down the 2nd place #51 (JMS P.MU LMcorsa RC F GT3). He got into a nose to tail battle with #51, and with what looked like significant tire wear, on the 10th lap he was able to overtake him and move into 2nd place.
Once the race was about 10 laps in, the road surface began to dry quickly. The teams with wet tires all started to lower their pace, and the Miku AMG was no exception. However, due to fuel considerations for the second half of the race they delayed their pit in until the 20th lap, when Taniguchi took over with slick tires. At this point the wet tires they had taken off had almost no tread remaining.
On his out lap he fell to 14th place, but on the 25th lap he was back up to 10th, then on the 30th lap he was up to 8th as he steadily climbed. On the 33rd lap he passed #21 (Hitotsuyama Audi R8 LMS) to move into 6th, and after all cars had completed their pit in on the 42nd lap he was running in 2nd place. There was a 10 second gap to the fast running #51 in front of him, and while he was able to decrease this down to a 5 second gap by the end, he was unable to catch up with him and was in 2nd place at the checkered flag.
With this result the team moved up to 65 points in the season ranking, reclaiming the top spot. With a 9 point lead over the 2nd place team, their attention turned ahead to the final race. They were in a good position to claim the championship, but #51 had finished 1st twice, so in the event of a tie they would lose the championship (Miku AMG had one 1st place finish), meaning they couldn't let their guard down until the very end. They could take care of things themselves with a 2nd place finish or better. Alternatively, they would need to finish ahead of #51, #65, and #55, who all still had a shot at the championship.
In order to claim their first championship since 2014, the team would need to come together and prepare for the final race at Motegi.
■Personnel comments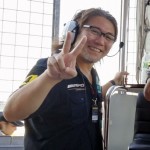 Team Owner:Takanori Aki
 The forecast called for heavy rain, and with the sudden squall right before the race things were in a state of flux, but with our drivers' hard work we were able to improve our position. We ended up starting with wet tires and finishing with slick tires. Kataoka really showed perseverance. In the latter half Taniguchi passed several cars, and in the end he almost ran down the final car. If we had won today the championship would have been a lot easier, but nevertheless we approach the final race in a position of strength, so we'll put all we have into preparations. Most importantly, this feels great!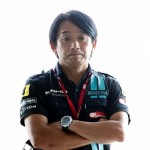 Team Manager:Ukyo Katayama
First of all, I'm glad we got through the crazy Thailand race safely. The weather wasn't exactly our ally today, and things didn't exactly go how we wanted, but the drivers worked really hard. Taniguchi's wet tire preliminary 4th place finish was amazing, and even though the finals got off to a difficult start, Kataoka was able to improve our position. Depending on our pit in timing it might have been possible to pass #51, but we had to consider our own fuel issues as well. However, getting mixed up with the GT500 and cars more than a lap behind really hurt our time, and that's unfortunate. Despite that we have a 9 point margin and are sitting at the top of the rankings, and that is big. But of course we can't relax yet.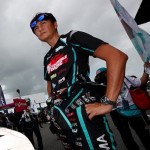 Driver:Nobuteru Taniguchi
In this race the tires that YOKOHAMA prepared for us were absolutely perfect, and we were able to put up good times both wet and dry. In the finals with just a bit more we could have won so it leaves you wanting more, but I'm very happy with 2nd place! It is also big that our rivals #25 (VivaC 86 MC) and #65 did not earn any points… of course now #51 is our biggest rival, and you really can't predict how this season will unfold. We can't let up now, but it's great to be able to approach the final race at Motegi with a bit of a margin to work with.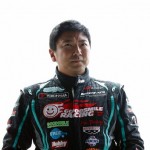 Driver:Tatsuya Kataoka
I was kind of surprised at the squall right before the race started, but looking at the results with the wet tires from YOKOHAMA as well as Taniguchi's stint with slick tires, the tire performance matched the conditions today, and we were able to have a very good race. We started in 4th place and finished in 2nd, and we were able to reclaim 1st place in the point rankings as we move toward the final race, so this was a great weekend.