2022.05.18
Hatsune Miku GT Project 2022 Season Exhibition is open!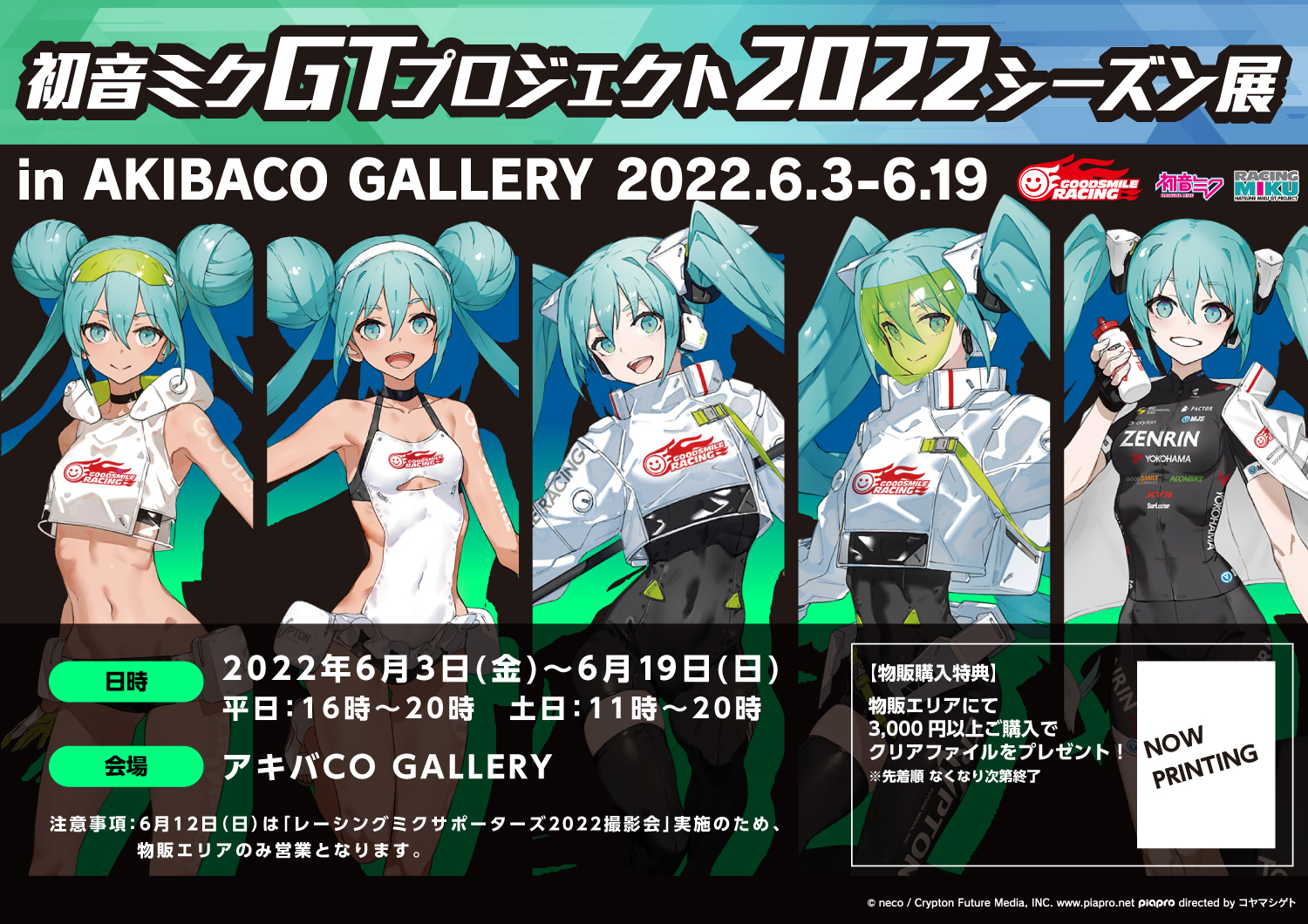 Thank you for always supporting the Hatsune Miku GT Project.
From June 3 (Fri)–June 19 (Sun), 2022, the "Hatsune Miku GT Project 2022 season Exhibition" will be held at Akiba CO Gallery (Akihabara, Tokyo). We await your visit!
[Date]
June 3 (fri)–June 19 (Sun), 2022
Weekdays OPEN: 16:00/ CLOSE: 20:00
Saturday, Sunday, & Public Holiday OPEN: 11:00/ CLOSE: 20:00
*On June 12 (Sun.), due to the "Racing Miku Supporters 2022 Photo Session," only the merchandise sales corner will be open.
[Venue]
Akiba CO Gallery
Akiba CO Building 1F, 3-16-12 Sotokanda, Chiyoda-ku, Tokyo
[Exhibition Contents]
Exhibits and Sale of Merchandise related to Hatsune Miku GT Project
[Novelty for Visitors]
Personal Sponsor Badge
*During the exhibition, please show your 2022 personal sponsor circuit & event bonus voucher "Special 1″ ticket and your personal sponsor card at the shop cashier.
*There is only 1 type of badge. Regardless of your personal sponsor ranking, you will receive 1 badge for each ticket.
[Merchandise Purchase Bonus]
1 Clearfile will be given at 3,000 yen worth of merchandise purchases.
*Bonuses will only be given out while stocks last.
*During the event, you will also get the same bonus when making purchases worth more than 3,000 yen at the "GSR Shop by FOREST Yahoo shop".
*GSR Shop by FOREST Yahoo shop does not deliver overseas.
https://store.shopping.yahoo.co.jp/gsrshop-forest/